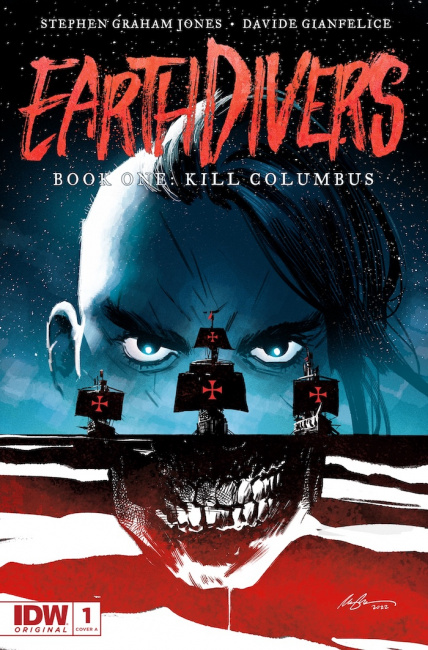 IDW has announced a slate of nine original ongoing and limited comics series, the first titles in their new Originals line, which is helmed by Editorial Director Mark Doyle . Starting with writer Scott Snyder and artist Hayden Sherman's
 Dark Spaces: Wildfire,
 which will launch in July, IDW plans to release new original comics every month. 
Here's the lineup:
Dark Spaces: Wildfire, by Snyder and Sherman, a thriller that follows an all-female firefighting team of prison inmates who hope to make a big score by clearing out a burning mansion in the aftermath of a California wildfire.
Trve Kvlt, by writer Scott Bryan Wilson and artist Liana Kangas, a five-issue limited series about a guy who grabs his last chance to escape a lifetime of dead-end jobs and gets tangled up with a satanic cult.
Crashing, by writer Matthew Klein and artist Morgan Beem, a five-issue limited series set during a superhuman war and starring an emergency room doctor who struggles with addiction while facing up to a dangerous new reality.
Earthdivers, by writer Stephen Graham Jones and artist David Gianfelice, an ongoing series that follows four indigenous time travelers who leave an apocalyptic future era to go back and kill Christopher Columbus, in hopes of preventing the settlement of America.
Dead Seas, by writer Cavan Scott and artist Nick Brokenshire, a six-issue limited series about a convict trapped on a sinking, ghost-infested prison ship whose only chance of survival is to get the ghosts, the convicts, and the guards to work together.
Golgotha Motor Mountain, by writers Matthew Erman and Lonnie Nadler and artist Ryan Lee, a high-energy tale of two meth-cooking brothers making a mad dash for home with a host of hostile aliens on their tail.
Arca, by writer Van Jensen and artist Jesse Lonergan, an original graphic novel about an extraterrestrial resort for billionaires, staffed by indentured teenage servants, and the reaction of one girl who learns the deck is stacked against her.
The Sin Bin, by writer Robbie Thompson and artist Molly Murakami, a six-issue limited series that follows the adventures of a hockey player turned monster hunter searching for the killer of his daughter's mother.
The Hunger and the Dusk, by writer G. Willow Wilson and artist Chris Wildgoose, a 12-issue series that changes the dynamic of the rivalry between humans and orcs when a new species emerges that threatens both groups, forcing them to unite against a common enemy.
IDW has more new properties in the works, including a comic by writer John Ridley and a number of new middle-grade and YA graphic novels, and is planning to develop these new comics and graphic novels for film, television, and other media.